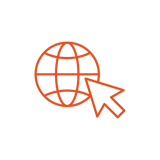 Transform your online presence with visually stunning, impactful websites that effectively communicate with your users.
At Felinesoft, we understand the unique needs of not-for-profit organisations and the importance of having a website that effectively communicates your mission and engages your members and supporters.

We help our clients in building robust websites that neatly align their users' needs with complex business goals and strategic objectives.
We collaborate with you from conception to completion, taking a holistic approach and elegantly redesigning your website architecture based on the needs and desires of your digital stakeholders.
Innovative  UI (User Interface) design and UX (User Experience) are of course guaranteed, as we ensure that your site not only looks the part, but is also user-centric and seamless to create a unified experience across your digital landscape. 
Continue reading below to see more! 
User Experience & User Interface Design
Personalisation & Automation
Cloud Development (Azure)